What were the most searched-for cars in Ireland in 2022
As shown in the graph above, Volkswagen led the way in 2022 for most searches, with 12% of all car searches directed towards the German manufacturer.
Volkswagen
Volkswagen was founded in 1937 and is headquartered in Wolfsburg, Germany. The company has become one of the world's largest automobile manufacturers, selling vehicles in more than 150 countries worldwide with a portfolio including various passenger cars, trucks, and commercial vehicles. Technological advancements have been made to many of their cars through their involvement in motorsport. Volkswagen has also become a leader in electric vehicles and autonomous driving technology, with plans to expand production soon. Volkswagen continues to be one of the most iconic automotive brands today, combining performance, style, and efficiency for drivers worldwide.
Some of the most popular Volkswagen models include the VW Polo, the GTI and the VW Beetle. Volkswagen has always been a popular choice for motorists, which will likely stay the same in the future.
Audi
Audi vehicles are known for their performance, luxury, and safety. Audi's most popular models include the A3, Q5, and A4. These vehicles are stylish, comfortable, and fuel-efficient. Audi's cars have advanced safety features like adaptive cruise control, lane-keeping assist, and automatic emergency braking. In addition to safety, Audi also takes pride in its advanced technological features. Many of their vehicles come equipped with a virtual cockpit and other cutting-edge infotainment systems. Audi cars are perfect for luxury car shoppers who want the best of both worlds – performance and style. Audi is an excellent choice for a luxury vehicle with a range of options to choose from and outstanding build quality. Whether you're looking for a sporty sedan, SUV, or coupe, Audi has something to offer every driver. From the sleek design of the A4 to the powerful performance of the RS7 Sportback, Audi cars are sure to make an impression on any road.
BMW
BMW cars are known for their luxurious interiors, performance capabilities, and cutting-edge technology. The interior of a BMW is designed with comfort in mind and offers plenty of amenities such as fully adjustable leather seating, air conditioning, power windows, and entertainment systems. Performance capabilities are also at the heart of BMW cars; all models feature powerful engines that use innovative technologies to offer a smooth and responsive ride. As well as practical cars, BMW offers many luxury and sporty vehicles, including the BMW i8, the four series range and the three series range. BMW has forever been an extended stay in the market, positioning itself as a more luxury brand, but with so much brand recognition, its presence in the most searched car models is no surprise.
Ford
Fords continue to be famous for their reliability and affordability. The company is constantly innovating, introducing new technologies and safety features such as the Sync 3 infotainment system and the Ford Co-Pilot360 driver assistance package. Ford also offers various vehicles, including sedans, SUVs, trucks, vans, hybrids, crossovers, performance models like the Mustang, and electric cars. With so many options available, there is sure to be a Ford that fits your lifestyle and budget. Ford has something to offer if you're looking for an efficient commuter car or a powerful truck.
Toyota
Toyota has been a leader in innovation for many years and is leading the way in terms of technology. The company has invested heavily in research and development to create some of the most advanced cars on the market. Toyota's commitment to safety is also evident in its constant pursuit of perfecting every aspect of its vehicles. Their advanced driver assistance systems are designed to keep drivers aware and alert, providing warnings when the driver is at risk of an accident. They also invest heavily in green technology with its hybrid vehicles, creating cars with lower emissions and reducing fuel costs over time.
Additionally, the company has implemented a Production System that ensures that all parts of the production process are optimized for quality and efficiency. With all these advancements, Toyota continues to be a leader in the automotive industry. With Ireland's growth in electric vehicle ownership, it is little surprise to the emergence of Toyota as one of the top 5 most searched brands in 2022.
Top 5 car makes sold in 2022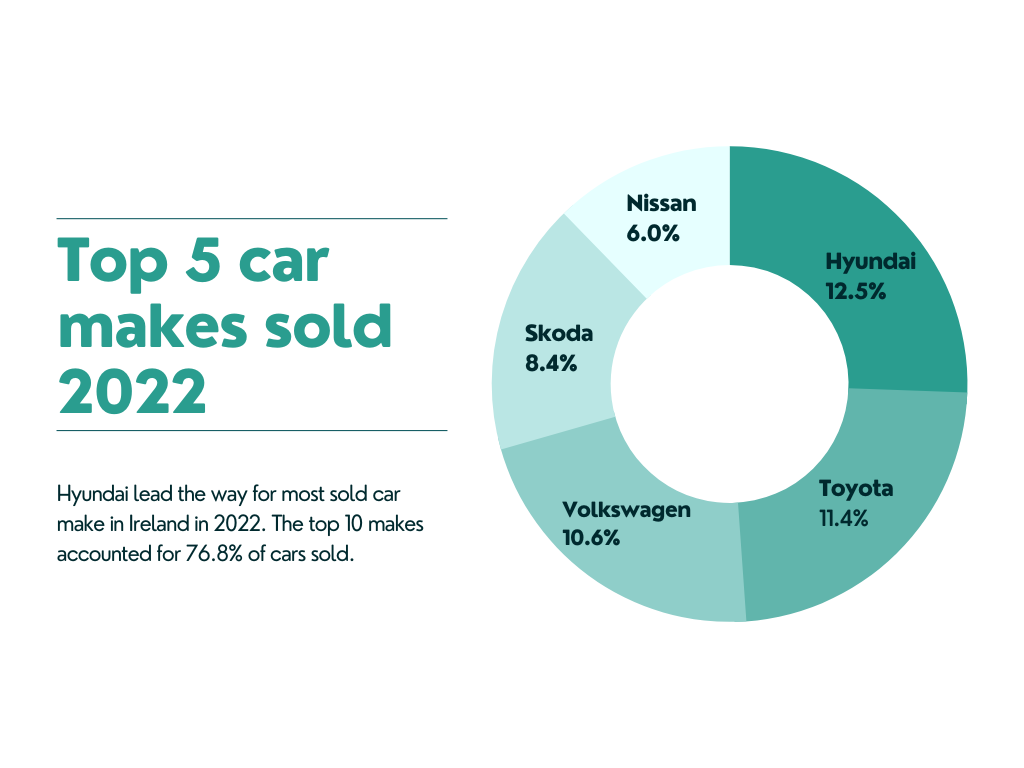 The top 5 car makes account for 48.9% of all vehicle sales, with Hyundai taking up the most significant percentage of car sales at 12.5%. There is a link between those brands with the most searches and those with the most sales, with Toyota and Volkswagen in both lists. As for the other car brands, such as BMW and Audi, it is likely that whilst searches are high, the search > purchase conversions are much lower due to these brands being more elevated in price and luxury. As such, customers are more likely to casually browse these cars without a desire to purchase them.
Hyundai
Hyundai has developed its technological offering in recent years. Hyundai has also invested heavily in developing autonomous driving systems. Self-driving technology has already been implemented in some of the company's models, offering drivers increased safety and convenience. Hyundai has partnered with several companies to develop its self-driving platform, allowing it to stay ahead of the curve in autonomous vehicles. Hyundai has implemented a variety of other technologies to enhance the driving experience. This includes augmented reality, which allows drivers to see virtual objects on the road in real time. Hyundai's Digital Key system is another example of this technology being utilised, allowing owners to unlock and start their vehicles with their smartphones.
Finally, Hyundai has also developed a variety of convenience features for its vehicles. From the remote smart parking assist to voice-controlled systems, Hyundai is continuously looking for ways to make driving more accessible and enjoyable. With all these advancements, it's no wonder Hyundai continues to be one of the leading automakers in technology.
Nissan
Nissans are renowned for their reliability, affordability, and safety. They offer a great combination of power, performance, and fuel efficiency. This allows you to enjoy the drive without spending too much at the pump. Nissan vehicles offer intuitive technology features, such as advanced driver-assistance systems, navigation systems, touchscreens and more. Whether you're looking for a car, truck or SUV, Nissan has options. The Nissan Leaf is the latest in Nissan's push for electric car development, becoming a immensely popular option throughout the car industry. Nissan has forever been a reliable choice whilst offering excitement in its GTR model. For many, Nissan is a safe choice where solid performance and safety are guaranteed.
Skoda
Skodas are known for their reliable engines, good fuel economy, and affordable prices. The carmaker has many models, ranging from the compact Fabia hatchback to the large Superb executive saloon. Skodas are particularly popular with families as they offer space and practicality at an attractive price. In addition to its family-friendly models, Skoda offers a selection of performance cars, such as the Octavia vRS and Kodiaq vRS. These cars provide a more dynamic driving experience while still being relatively affordable.
Skodas are well-known for their longevity, with many models lasting up to 15 years or more with regular maintenance. The cars are also known for their low running costs, with fuel economy figures remaining competitive even as the years go by. Skoda's range of engines are designed to be both efficient and reliable, with many able to perform for well over 200,000 miles without any significant repair work.
The brand's commitment to quality and safety means that Skodas are an excellent choice for families and experienced drivers. The cars come with the latest active and passive safety systems, such as Electronic Stability Control (ESC), traction control, anti-lock brakes, adaptive cruise control, blind spot monitoring, and lane-keeping assist.
The 5 most popular electric cars in Ireland in 2022
Volkswagen ID.4
The Volkswagen ID.4 is a reliable and efficient electric car that offers drivers an enjoyable driving experience. With a powerful motor, and long-range and fast charging times, the ID.4 is perfect for long-distance drives or daily commutes. The interior is spacious and comfortable, with a modern design featuring intuitive controls for ease of use. The exterior is stylish and sporty, giving it an athletic appearance. Overall, the Volkswagen ID.4 is an excellent choice for those who want an eco-friendly car that's efficient, comfortable, and fun to drive. It's sure to be a great addition to any family.
Hyundai Ioniq
The Hyundai Ioniq is a great all-around vehicle that offers a comfortable, efficient ride. The Hybrid powertrain combines petrol and electric technology to deliver excellent fuel economy (up to 58 mpg in the US) and low emissions. The interior has many high-tech features, including an 8″ touchscreen infotainment system, Apple CarPlay, Android Auto and a wireless charging pad. The exterior has a sleek and modern design that looks good both on the outside and inside. Safety features include emergency braking, lane-keeping assist, blind spot monitoring and more. The Hyundai Ioniq is an excellent choice for those who want a reliable hybrid vehicle with plenty of features and excellent fuel economy.
Kia EV6
The Kia EV6 is an electric vehicle with a range of up to 310 miles on a single charge. It has two powertrains, one for all-wheel drive and one for rear-wheel drive, providing high performance and efficiency. The EV6 also features advanced technology such as adaptive cruise control, lane keeping assist, blind spot view monitor, and more. This car is rated highly in crash tests by the Insurance Institute for Highway Safety (IIHS). It also boasts a sleek design with smooth lines and aerodynamic styling.
The interior of the Kia EV6 is both modern and luxurious. The cabin features comfortable seating for four adults, as well as top-notch materials and finishes. Highlights include an 8-inch infotainment system with Apple CarPlay and Android Auto, wireless charging, and a digital instrument cluster.
Volkswagen ID.3
The Volkswagen ID.3 is notable for its environmental advantages, as it produces zero emissions. The electric motor is powered by lithium-ion batteries and can achieve a range of up to 260 miles (418km) on a single charge. Inside the car, drivers will find an advanced infotainment system with support for Apple CarPlay, Android Auto, and an in-car digital assistant. The system also supports voice commands to access the car's features easily.
Safety is also a priority with the Volkswagen ID.3, as it comes with a host of advanced driver-assistance systems such as adaptive cruise control, lane keeps assist, and automatic emergency braking. The car also has a range of cameras and sensors to keep you safe on the road.
In conclusion, the Volkswagen ID.3 is a capable and efficient electric vehicle that allows drivers to go green while still enjoying all modern car features. Its robust infotainment system, advanced driver-assistance systems, and zero emissions make it an excellent choice for those looking for an environmentally friendly car.
Nissan Leaf
It's easy to see why the Nissan Leaf is so popular. It provides a comfortable ride and plenty of power and offers a lower cost of ownership compared to gasoline-powered cars. The Leaf also has advanced safety features such as automated emergency braking and lane departure warning systems. Furthermore, its all-electric drivetrain allows for zero-emissions driving and thus helps to reduce air pollution.
In addition to its eco-friendly performance, the Nissan Leaf has plenty of technology features. The car has an infotainment system with a 7″ touchscreen display and smartphone compatibility for hands-free calling and text messaging. Some rearview cameras and sensors can detect obstacles in your path, helping to keep you and other drivers safe. Finally, the Leaf's navigation system allows you to find your way quickly and easily.
The Nissan Leaf is an excellent option for those looking for an eco-friendly vehicle with plenty of features and conveniences.
Conclusion
The Irish car market is set to grow in 2023, albeit slower than the year before. The growth of electric vehicle ownership signals the direction of the car industry going into the new year. If you are interested in learning more about the Irish car finance market, click here to read from cartell.ie.
Did you know it is better to obtain a car finance quote before choosing your desired vehicle? That way, you can understand how much you can afford to borrow and how much it'll cost you each month.
LM Operations offers a FREE eligibility check, where you can find out if you're pre-approved for finance the same day!
Check your availability here.
Representative Example
Borrowing €12,500 over 54 Months with a representative of 17.9% APR, an annual interest rate of 17.9% (fixed) and a deposit of €0.00, the amount payable would be 53 repayments of €327.52 per month, with one final repayment of €526.52 (which includes the option to purchase fee of €199.00), with a total cost of credit of €5,385.08 and a total amount payable of €17,885.08.
LM Operations Ltd are a lender, not a broker. This is for illustrative purposes only and is not a quote or an offer of finance.
Our finance rates vary depend on individual circumstances and is subject to status.